Jeremy Keith
Making websites.
Writing books.
Speaking at conferences.
Living in Brighton.
Working at Clearleft.
Playing music.
Taking photos.
Answering email.
Journal 2305 Articles 63 Links 5873 Notes 2353
Wednesday, May 25th, 2016
I love this illustration that Jess made of my Resilience talk at the Render conference.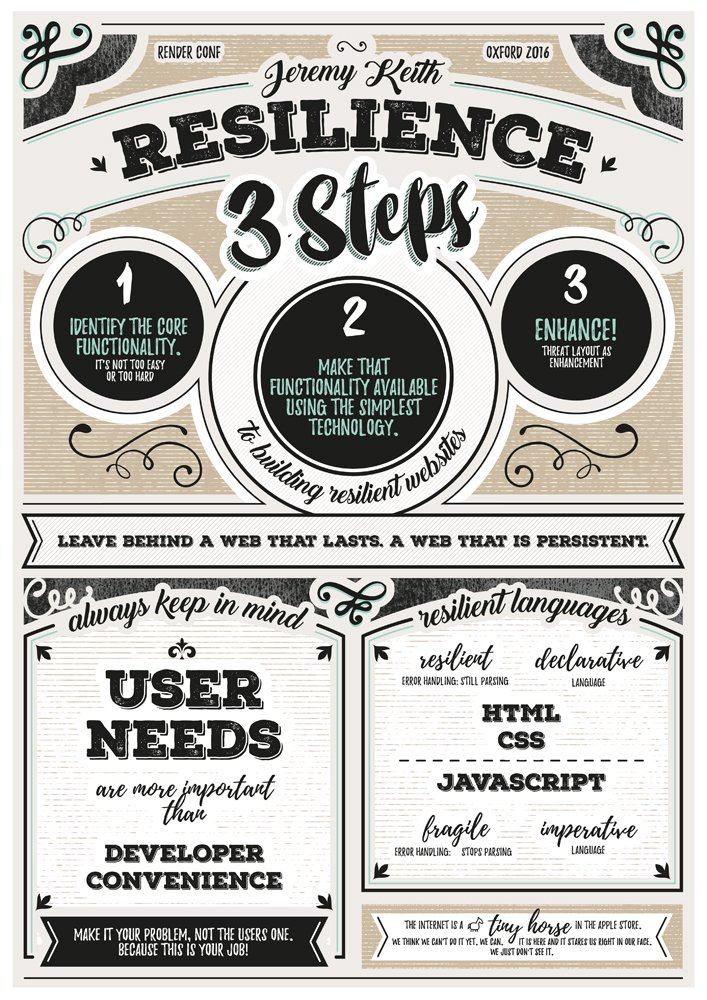 Monday, May 23rd, 2016
I am shocked and disgusted by this arbitrary decision by the Chrome team. If your Progressive Web App doesn't set its manifest to obscure its URL, you get punished by missing out on the add to home screen prompt.
Strongly disagree with Lighthouse wanting "Manifest's display property set to standalone/fullscreen to allow launching without address bar."
A typically superb article by Aaron. Here, he breaks down a resilient approach to building for the web by examining the multiple ways you could add a button to a page. There's a larger lesson here too:
We don't control where our web-based products go or how our users access them. All we can do is imagine as many less-than-perfect scenarios as possible and do our best to ensure our creations will continue to do what they're supposed to do. One of the easiest ways to do that is to be aware of and limit our dependencies.
Unfollowing people on Twitter who think their Game Of Thrones spoilers are oh-so-clever.
Sunday, May 22nd, 2016
Here's a fantastic and free little book by Adam Scott. It's nice and short, covering progressive enhancement, universal JavaScript, accessibility, and inclusive forms.
Download it now and watch this space for more titles around building inclusive web apps, collaboration, and maintaining privacy and security.
Did I mention that it's free?
I'll be speaking to students in Vasilis's class for Communication and Multimedia Design in Amsterdam right before CSS Day. There are (free) tickets available if you're around. I'll be talking about digital preservation and long-term thinking on the web.
This meetup is, like all other Icons Meetups, free to attend for everyone. For students and lecturers of CMD Amsterdam, of course. But also for all professional (digital) designers who want to be inspired.
A fascinating thought experiment from Ted Chiang:
So let's imagine a world in which Chinese characters were never invented in the first place. Given such a void, the alphabet might have spread east from India in a way that it couldn't in our history, but, to keep this from being an Indo-Eurocentric thought experiment, let's suppose that the ancient Chinese invented their own phonetic system of writing, something like the modern Bopomofo, some thirty-two hundred years ago. What might the consequences be?
Saturday, May 21st, 2016
Bidding farewell to Boston after a thoroughly lovely week.