Saturday, September 7th, 2019
An interesting proposal to allow websites to detect certain SMS messages. The UX implications are fascinating.
Sunday, December 3rd, 2017
Sunday, October 4th, 2015
Thoroughly enjoyed The Martian, which was basically Science Hack Day: The Movie.
Tuesday, July 14th, 2015
Indie Web Camp Brighton 2015 is a wrap, and what a fun weekend it turned out to be.
I was really pleased with the turnout; not just the number of people who came along—many of them from very far afield—but also the range of skill levels and backgrounds represented. What a lovely bunch!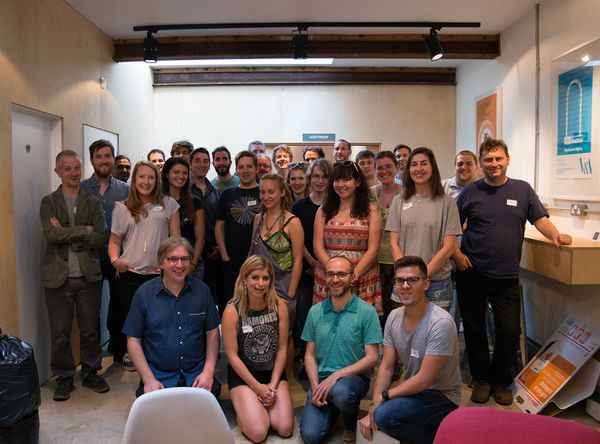 We kicked off the first day with a show'n'tell: people demoed their sites, showed their posting interfaces, and talked about what they'd like to improve. That sparked plenty of ideas for the afternoon discussions. But in between we had a nice long lunch break—it was a lovely sunny day in Brighton so we took full advantage of the sun, the street food, and the ice cream.
We wrapped up the first day around 5pm and I immediately dashed off to start loading in and sound checking for a Salter Cane gig that evening. That turned out to be a lot of fun—the audience were great—but I was completely knackered by the end of the day.
The weather on Sunday was far gloomier, but that was okay—we spent the whole day indoors anyway, coding and hacking away at stuff. Quite a few people were adding h-entry and h-card to their sites so I helped them out whenever I could. Meanwhile I was working on trying to get an SMS interface to my site working using the Twilio API.
The actual coding part went pretty quickly, but then I hit a wall. Whenever Twilio tried to reach a URL on my site, it would time out with a 504 error. I couldn't figure out what was going on. On a hunch, I tried sending it to a subdomain that wasn't being served over HTTPS. That worked fine. Now, I can't imagine that Twilio is actually unable to work with secure endpoints, so it must be something to do with the way that I've enabled HTTPS on my domain. Anyway, the HTTP subdomain solution worked, and eleven minutes before demo time I finally had something to show.
We finished the day and the event with the quickfire demos. As always, there was some really impressive stuff—it's quite amazing how much can get done in such a short space of time. Then we tidied up and headed across the street to the pub for a well-deserved pint.
All in all, a great weekend.
Monday, July 13th, 2015
Still recovering from an excellent but exhausting Indie Web Camp at the weekend.
Sunday, July 12th, 2015
Demo time at Indie Web Camp!
Posting via SMS, just like the good old days.
Friday, February 8th, 2013
Saturday, January 22nd, 2011
This could be an interesting tool for building a voice or SMS interface onto Huffduffer.
Friday, May 14th, 2010
Some of the best neologisms in programming, many of them to do with bug-fixing.
Sunday, January 4th, 2009
The importance of providing predictive text for minority languages (including Irish). To help preserve languages, advocates are pushing to make more written languages available on cellphones.
Thursday, November 27th, 2008
It's The Meaning Of Liff all over again. Creating and rating neologisms.
Tuesday, April 29th, 2008
Put all those years of reading science fiction to use. Help track down first usage of sci-fi terms.
Tuesday, April 10th, 2007
Spring is in the air here in Brighton. The sun is showing its face, people are rediscovering their skimpier clothes and a young man's fancy turns to… art.
Clearleft's landlords, Lighthouse, have organised an interesting exhibit in the foyer. It's the latest project from the Blast Theory collective. They call it Day of the Figurines:
Day Of The Figurines is part board game, part secret society. The game is set in a fictional town that is littered, dark and underpinned with steady decay.
The foyer is currently dominated by a table covered in miniature building facades and populated by tiny subbuteo-like homonculi. Visitors to the exhibit can register their mobile phone numbers, claim figurines as their own and give them names and back-stories. For 24 days, they can partake in a kind of SMS-based adventure game. The figures will obey commands sent from their owner's phones, have adventures and interact with other figurines (this part isn't handled by any high-tech robotics: there are two people stationed in the foyer who update the figurine positions every hour).
I've registered a figurine of my own. His adventure begins tomorrow.
In a slightly more traditional vein, there's a nice photography exhibition currently running a stone's throw away from the Clearleft offices in Brighton's trendy North Laine. Miss Aniela—she of Flickr fame—is displaying a selection of her online work.
It's interesting to see the pictures outside of the confines of the browser. The descriptions for each picture come straight from Flickr so technically there shouldn't be anything new to be had from the exhibition but it's still quite gratifying to behold the pictures in a non-pixel format. Call it the Moo effect.
Day of the Figurines runs from April 4th to 27th at Lighthouse, 28 Kensington Street, Brighton.
Miss Aniela is showing from April 6th to 30th at the North Laine Photography Gallery, 7-8 Kensington Gardens, Brighton.
Tuesday, January 31st, 2006
Former Doctor Who actor Tom Baker is to be the voice of a talking text message service for three months.
Saturday, June 18th, 2005
Coolest use of Automater ever. Send an SMS form your phone to your POP account and your Mac will call you back over Skype to play you an MP3.